» Home
» Accommodation
» News & Weather
» Activities
» Travel
» Food & Drink
» Out & About
» Culture
» Information
» Property
» Non-Profit
» Contact Us
» Site Search
» Site Map
Corfu Recipes - Tsoureki
This page gives you the opportunity to re-create some of your favourite Corfiot taverna recipes at home. This time, Tsoureki. This traditional Greek Easter bread is characterized by hard boiled, scarlet dyed eggs baked right into the braided bread dough. Scarlet is the traditional colour, as it represents the blood of Christ.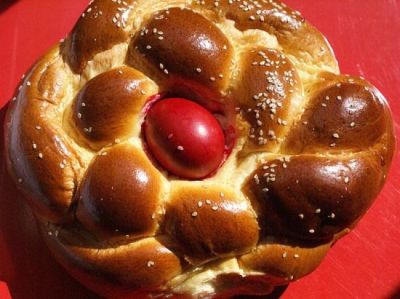 Ingredients - 1 cup milk. 5 cups of flour. Three quarters cup sugar. 1.5 tablespoons yeast. 3 eggs and 1 egg yolk. 1 teaspoon salt. Half cup softened butter. 2 tablespoons orange juice. 2 teaspoons orange zest. 2 teaspoons vanilla. 8 dyed hard boiled eggs.
Instructions - Heat the milk until very warm and pour into an electric mixer bowl. Whisk in one and a half cups of flour, the sugar and yeast, until well combined. Detach bowl from mixer, cover with plastic wrap and allow to standin a warm, draught-free place until bubbly (approx. 30 mins). Fit the mixer with a dough hook and add the eggs, one at a time, to the yeast mixture. Add another cup of flour, the orange zest and salt. Add the softened butter vanilla and orange juice, mix well, then gradually add enough of the remaining flour to form a soft, sticky dough, kneading until smooth. Coat a bowl with vegetable oil and turn the dough into it. Cover with plastic wrap or a clean kitchen towel and allow to rise in a clean, draught-free place until double in size (approx. one and a half hours). Pre-heat the oven to 400 degrees F. Line a large baking sheet with parchment paper. Braid the dough by dividing the dough into thirds, rolling each third into a long rope then braiding those ropes and twisting the whole braid into a ring. Tuck the dyed hard boiled eggs, wide or heavy side down, between the strands of the braid, at even intervals around the circle. Mix the egg yolk with 1 tablespoon water. Brush the loaf with egg mixture and bake for 15 minutes. Lower the heat to 350 degrees F and bake for about 20 minutes more or until golden brown. Remove from the oven and cool for 5 minutes before removing to a wire rack to cool completely
To dye eggs: Place the eggs in a pan of lukewarm water. When the water starts to boil, lower the temperature and simmer for about 10 minutes. In the meantime, prepare red dye, according to the directions of the package (dye for Easter eggs can be purchased at any Greek shop or local supermarket). Place boiled eggs one at a time into the dye. Simmer for another 5 minutes or so. Remove the eggs from the dye and allow to drain. Rub eggs with soft cloth, dipped in some olive oil, to make them shine. Wipe off the excess olive oil with paper towels.
Recipe Archive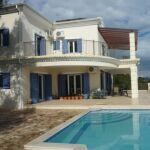 Corfu Premier Property
A selection of the most prestigious, exclusive, stunning & interesting
Corfu Property For Sale