» Home
» Accommodation
» News & Weather
» Activities
» Travel
» Food & Drink
» Out & About
» Culture
» Information
» Property
» Non-Profit
» Contact Us
» Site Search
» Site Map
Corfu Recipes - Olive Bread
This page gives you the opportunity to re-create some of your favourite Corfiot taverna recipes at home. This time, Olive Bread.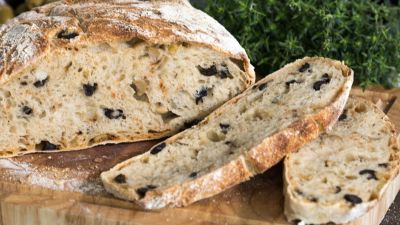 Ingredients - 125ml olive oil. 250ml lukewarm water. 1 teaspoon honey. One and a half teaspoons dry yeast. 450g wholemeal flour. 1 teaspoon sea salt. 2 onions, finely chopped. 10 pitted olives. 1 tablespoon rosemary.
Instructions - Place the water in a bowl, add the honey and stir until dissolved. Add the yeast and set aside for 10-15 minutes until foamy. Add in 3 tablespoons of olive oil, mix and add the salt. Sift half of the flour into a bowl, make a well in the centre and add the yeast mixture. Sift in the remaining flour or enough to make a firm dough. Turn out onto a lightly floured board and knead for 10 minutes into a firm dough. Set aside to rise for 2-3 hours, until double in size. Add 3 tablespoons of olive oil to a pan and heat. Add the onions, fry over a low heat until golden and set aside. Add the olives to boiling water and blanch for a few seconds. Drain the olives and pat dry with a paper towel. Finely chop the olives and toss together with the onions and the rosemary. Add to the dough and knead for 1-2 minutes. Shape the dough into a rounded mound. Grease a baking tray with olive oil, flatten the dough on the tray, cover lightly with a towel and set aside for an hour. Preheat the oven to 190°C. Bake for 10 minutes, reduce the oven to 180°C, coat with olive oil and bake for 30 minutes until golden.
Recipe Archive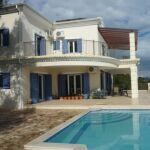 Corfu Premier Property
A selection of the most prestigious, exclusive, stunning & interesting
Corfu Property For Sale