» Home
» Accommodation
» News & Weather
» Activities
» Travel
» Food & Drink
» Out & About
» Culture
» Information
» Property
» Non-Profit
» Contact Us
» Site Search
» Site Map
Corfu Recipes - Bourekakia
This page gives you the opportunity to re-create some of your favourite Corfiot taverna recipes at home. This time, Bourekakia - minced meat stuffed in filo pastry.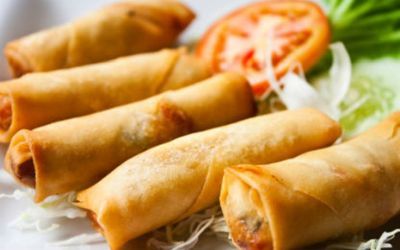 Ingredients - A little unsalted butter. 2 whole eggs (beaten). 1 cup grated feta cheese. One pack of filo pastry. 2 tablespoons Marsala. Half a teaspoon of nutmeg. Quarter of a cup of olive oil. 1 medium onion (grated). Salt and pepper. 2 tablespoons tomato paste. 1 lb minced beef. 2 cups water.
Instructions - Place the oil in a saucepan and saute the onion. Add the mince and brown. Mix the tomato paste with about two cups of water and add the marsala, salt and pepper to taste, and cook on a medium heat until the mince is cooked and not much sauce remaining in the pan. Remove from the stove, add the grated feta cheese and beaten eggs, stir and put aside. Remove the filo pastry from the package and roll the pastry sheets on a flat area and cut each into strips of about 4cm (1.5 inches). Cover these strips with a moist tea-towel. Brush each strip with some olive oil. Place one teaspoon of filling at the end of the strip and fold the pastry diagonally over the filling, folding each side alternatively to form a triangular shape. Brush the top of each triangle with melted butter and place on a greased baking tray. Bake in the oven at 200 degrees until golden brown.
Recipe Archive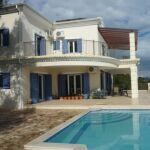 Corfu Premier Property
A selection of the most prestigious, exclusive, stunning & interesting
Corfu Property For Sale