» Home
» Accommodation
» News & Weather
» Activities
» Travel
» Food & Drink
» Out & About
» Culture
» Information
» Property
» Non-Profit
» Contact Us
» Site Search
» Site Map
Corfu Recipes - Skordalia
This page gives you the opportunity to re-create some of your favourite Corfiot taverna recipes at home, this time Skordalia. (Garlic Sauce). This sauce is traditionally served with fried salt cod on March 25th, Palm Sunday and August 6th, but is eaten on many other occasions. It is good with any fried fish, fried courgettes or aubergines, and boiled vegetables.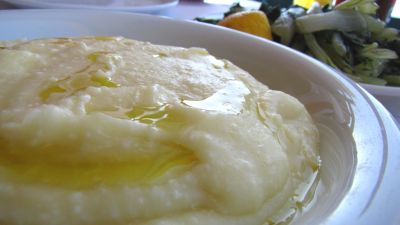 Ingredients - 6 cloves garlic. 4 medium potatoes boiled and mashed. 4 or more large slices of bread soaked in water and squeezed dry. ½ cup to ¾ cup good olive oil. ½ cup white vinegar.
Instructions - Pound the garlic in a mortar with a pestle until mashed. Continue pounding while very gradually adding the potatoes and bread, beating until the mixture resembles a paste. Slowly add the oil, alternately with the vinegar making sure that each is absorbed. You may now put in a food processor and blend while continuing to add oil and vinegar. If the mixture is lumpy it should be put through a sieve. Add salt to taste. Place in a glass serving dish and chill. Will keep for 1 week.
Recipe Archive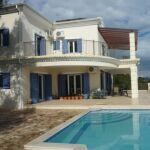 Corfu Premier Property
A selection of the most prestigious, exclusive, stunning & interesting
Corfu Property For Sale