» Home
» Accommodation
» News & Weather
» Activities
» Travel
» Food & Drink
» Out & About
» Culture
» Information
» Property
» Non-Profit
» Contact Us
» Site Search
» Site Map
Corfu Recipes - Stifado
This page gives you the opportunity to re-create some of your favourite Corfiot taverna recipes at home, this time Rabbit Stifado.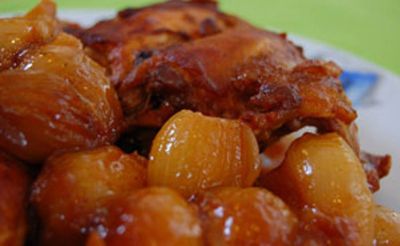 Ingredients - A large rabbit, jointed, 2 tbsp tomato puree, 2 bay leaves, 4 tbsp red wine vinegar, 150ml. olive oil, 1/4 teasp sugar, 4 garlic cloves, roughly chopped, 1 small cinnamon stick, salt and black pepper, 4 whole allspice, 1 sprig rosemary, 150ml. red wine, 300ml hot water, 675g button onions, whole.
Instructions - Rinse the rabbit pieces and place them in a mixing bowl together with the bay leaves and vinegar. Mix well and leave to marinate for at least 2 hours. Remove the rabbit from the marinade and pat dry with kitchen paper. Heat half of the olive oil in a large saucepan until hot, add the rabbit and fry them in until quite brown on all sides. Add the garlic, bay leaves, spices, rosemary, wine, tomato puree and sugar and the hot water. Season with salt and pepper, bring to the boil mixing well then reduce the heat, cover and simmer for about 1 hour. Meanwhile, heat the remaining olive oil in a frying pan, add the onions and sautZ gently for 15 minutes stirring occasionally, until golden all over. After the rabbit has been cooking for 1 hour, add the onions and oil from the frying pan to the saucepan. Mix, then re-cover and simmer for a further 15 minutes.
Recipe Archive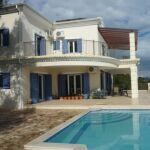 Corfu Premier Property
A selection of the most prestigious, exclusive, stunning & interesting
Corfu Property For Sale