» Home
» Accommodation
» News & Weather
» Activities
» Travel
» Food & Drink
» Out & About
» Culture
» Information
» Property
» Non-Profit
» Contact Us
» Site Search
» Site Map
Corfu Recipes -
Lamb Klephtiko
This page gives you the opportunity to re-create some of your favourite Corfiot taverna recipes at home. This time Lamb Klephtiko. "Klephtiko" is a term that refers to any kind of meat dish that is sealed and baked. The word comes from the time of the Greek revolution, when bands of Greek guerrillas, called Klephts, hid in the mountains and cooked their dinner in pits sealed with mud, so that smoke and steam would not escape and betray their positions.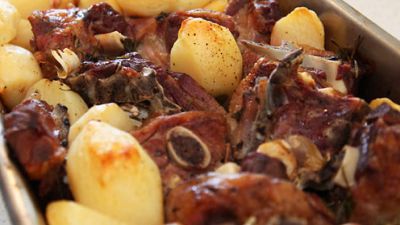 Ingredients - 1kg boneless lamb, cut into cubes. 1/4 cup olive oil. 2 large onions, peeled and coarsely chopped. 4-6 spring onions, trimmed and cut into thin rounds. 2-3 garlic cloves, peeled and minced. 1 and 1/2 cups fresh peas (or frozen and thawed). 250 grams kefalotiri cheese (or any hard white cheese), cubed. 2 medium tomatoes, cored and sliced. 2 teaspoons oregano. Salt and pepper.
Instructions - Season the lamb with salt and pepper. Heat 2 tablespoons olive oil in a large pan and brown the meat on all sides over high heat. Add the remaining olive oil and saute the onions, spring onions and garlic until soft. Add the peas and cook for 5 minutes. Preheat the oven to 350F. Cut 6 large sheets of aluminum foil or parchment paper. Distribute the lamb, vegetables and cheese cubes evenly among them. Season with salt and pepper. Top each with 2 slices of tomatoes and a little oregano. Seal each "parcel" either by folding it at the top to close thoroughly, or by tying it with a cotton butcher's cord. Place the parcels in a roasting pan and bake at 350F for about an hour. Serve immediately.
Recipe Archive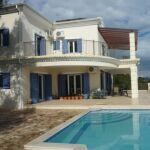 Corfu Premier Property
A selection of the most prestigious, exclusive, stunning & interesting
Corfu Property For Sale