» Home
» Accommodation
» News & Weather
» Activities
» Travel
» Food & Drink
» Out & About
» Culture
» Information
» Property
» Non-Profit
» Contact Us
» Site Search
» Site Map
Corfu Recipes - Prawn Saganaki
This page gives you the opportunity to re-create some of your favourite Corfiot taverna recipes at home. This time Prawn Saganaki.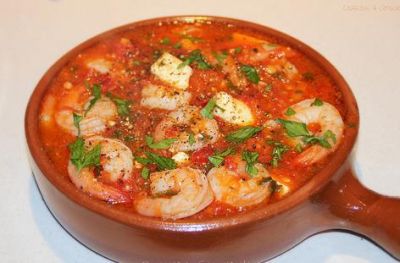 Ingredients - 3 tablespoons olive oil.Two and a half cups chopped onions. Quarter cup finely chopped fresh parsley. 1 clove garlic, minced. Half teaspoon sugar. 3 cups chopped fresh plum tomatoes. 1 cup dry white wine or Retsina. 1 kg prawns peeled and deveined. 1 cup crumbled feta cheese.
Instructions - Preheat the oven to 425 F. Warm the oil in a large pan over a medium heat. Add the onions and saute for about 7 minutes until a light golden brown. Add the parsley, garlic and sugar and stir to mix. Add the tomatoes and cook for about 20 minutes until they soften and the liquid is absorbed. Add the wine to the pan and cook until the liquid is absorbed. Add the prawns and cook, stirring occasionally, for 30 seconds. Remove from the heat. Pour the prawns and sauce into a casserole. Top with the feta cheese. Bake for about 5 minutes until the cheese melts.
Recipe Archive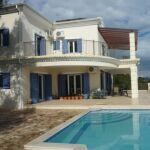 Corfu Premier Property
A selection of the most prestigious, exclusive, stunning & interesting
Corfu Property For Sale