» Home
» Accommodation
» News & Weather
» Activities
» Travel
» Food & Drink
» Out & About
» Culture
» Information
» Property
» Non-Profit
» Contact Us
» Site Search
» Site Map
Corfu Recipes - Stuffed Onions
This page gives you the opportunity to re-create some of your favourite Corfiot taverna recipes at home. This time, Stuffed Onions.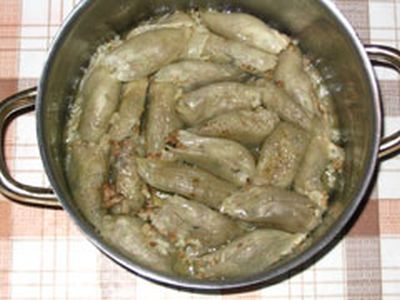 Ingredients - 4 large onions. 500 gr minced meat. 1 cup rice. Bunch of parsley, finely chopped. Salt and pepper. Half a cup olive oil. 1 tspn cummin. 1 glass of vegetable or chicken stock.
Instructions - Peel the onions. Cut them into four pieces and boil them until all the onion leaves are tender. (They will soften quicker if you seperate all the leaves first.) When they are soft, wash and drain them and let them cool. You'll need at least 20 large onion leaves. Prepare the stuffing as follows: Saute the minced meat in olive oil for five minutes. Add the stock, parsley, cummin, salt and pepper and simmer for 20 minutes. Then add the rice, stir well and boil until the rice is cooked. Add some extra water if required. When the rice is ready remove it from the heat and let the stuffing cool. Take each onion leaf and place a teaspoon of the stuffing in it. Roll it and place it in a saucepan with the open side face down. Continue with the rest of the onion leaves. Place them close to one another so they will not open. When all the onions are stuffed and the bottom of the saucepan is completely covered, pour some extra olive oil and water over them and simmer until the liquid has evaporated.
Recipe Archive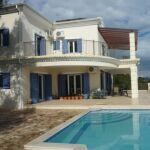 Corfu Premier Property
A selection of the most prestigious, exclusive, stunning & interesting
Corfu Property For Sale