» Home
» Accommodation
» News & Weather
» Activities
» Travel
» Food & Drink
» Out & About
» Culture
» Information
» Property
» Non-Profit
» Contact Us
» Site Search
» Site Map
Corfu Recipes - Karithopita
This page gives you the opportunity to re-create some of your favourite Corfiot taverna recipes at home. This time, Karithopita (Walnut Cake).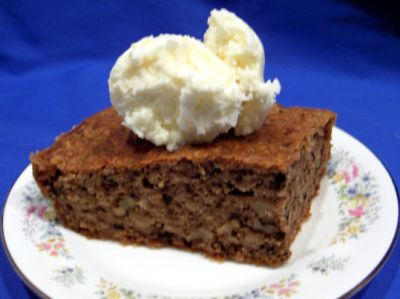 Ingredients - For the syrup: Three and a half cups of water. Two and a half cups of sugar. 5-6 whole cloves. A stick of cinnamon. The juice and peel of half a lemon.
For the walnut cake: 10 eggs, separated. 10 tablespoons of sugar. Half a teaspoon of ground cinnamon. A quarter of a teaspoon of ground cloves. 1 teaspoon of baking soda. 2 teaspoons of baking powder. 4 tablespoons of self-raising flour. The grated peel and juice of an orange. 2 tablespoons of brandy (or flavouring). 6 tablespoons of toasted breadcrumbs. 10 tablespoons of finely chopped walnuts. A pinch of salt. A tablespoon of water. Butter (to grease baking pan).
Toppings: Coarsely chopped walnuts. Ground cinnamon.
Instructions - In a saucepan, add all the syrup ingredients and bring to a boil, stirring well. Reduce the heat and allow to boil gently for 10 minutes. Set aside to cool. Beat the egg whites, salt, and water to firm peaks. Preheat the oven to 340°F (170°C). In a mixing bowl, beat the egg yolks, sugar, cinnamon and ground cloves very well until creamy and smooth. In a separate bowl, mix the baking soda, baking powder and flour, and stir in to the mixture. Add the grated orange peel and juice, brandy, breadcrumbs, and walnuts. Finally, and carefully, fold in the beaten egg whites. Lightly grease a 13 x 9 x 2 inch baking pan (or equivalent) with butter, pour in the cake mixture and bake for 40 minutes. The cake is done when a knife inserted into the middle comes out dry. Spoon the cooled syrup evenly over the hot cake. Sprinkle with walnuts mixed with a little cinnamon (or, alternatively, a dusting of confectioner's sugar). Allow to cool before serving.
Note: Make sure the syrup is completely cooled to room temperature before adding to cake. If necessary, refrigerate for a few minutes.
Recipe Archive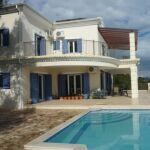 Corfu Premier Property
A selection of the most prestigious, exclusive, stunning & interesting
Corfu Property For Sale