» Home
» Accommodation
» News & Weather
» Activities
» Travel
» Food & Drink
» Out & About
» Culture
» Information
» Property
» Non-Profit
» Contact Us
» Site Search
» Site Map
Corfu Recipes - Baklava
This page gives you the opportunity to re-create some of your favourite Corfiot taverna recipes at home. This time Baklava.
Ingredients - Half kg frozen filo pastry sheets. 1 cup melted butter. 2 cups finely chopped walnuts. One and a quarter cups sugar. Half teaspoon ground cinnamon. Three-quarters cup honey. 1 cup water. 1 tablespoon lemon juice.
Instructions - Thaw filo pastry and separate sheets according to package directions. Keep pastry not being used covered with clean damp dish towel to keep it from drying out. Place half of pastry sheets in a greased 15x10x1-inch baking pan, one by one, brushing each sheet quickly and all over with melted butter. Combine nuts, 1/2 cup sugar, and cinnamon; sprinkle over buttered pastry. Place remaining sheets on top, brushing each with melted butter. Cut baklava pastry into 2-inch diamonds. Bake at 400Á until brown and crisp, about 30 to 35 minutes. Meanwhile, in a saucepan, combine remaining 3/4 cup sugar, honey, 1 cup water, and lemon juice; bring to a boil. Boil baklava syrup for about 20 minutes, stirring occasionally, until syrupy. Cool and pour over baklava.
Recipe Archive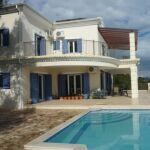 Corfu Premier Property
A selection of the most prestigious, exclusive, stunning & interesting
Corfu Property For Sale