» Home
» Accommodation
» News & Weather
» Activities
» Travel
» Food & Drink
» Out & About
» Culture
» Information
» Property
» Non-Profit
» Contact Us
» Site Search
» Site Map
Corfu Recipes - Imam Baildi
This page gives you the opportunity to re-create some of your favourite Corfiot recipes at home. This time, Melitzanes Imam Baildi (Baked Stuffed Aubergines). This recipe is of Turkish origin and was brought to Greece by the Greeks of Asia Minor after the exodus in 1922.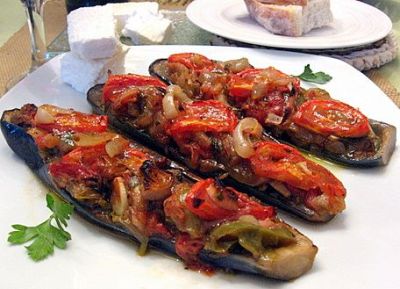 Ingredients - 6 medium-sized aubergines. 4-5 onions cut in round slices. 2-3 ripe tomatoes skinned and finely chopped. 2 tomatoes cut into slices. 3 tablespoons finely chopped parsley. 3-4 garlic cloves (sliced). 2 cups olive oil. 2 teaspoons sugar. Salt and pepper.
Instructions - Remove the stem ends of the aubergines and slice them in half lengthwise. Drop them in a pot of cold salted water for about 1 hour to remove their bitter juices. Strain them well and fry them in plenty of oil over a medium heat. Arrange the fried aubergines in a baking dish. Using a teaspoon, scoop half their pulp out, place it in a bowl and keep it aside. In a saucepan, sauté the onions adding the chopped tomatoes, the garlic, the reserved pulp, the parsley, the sugar, salt and pepper. Let this mixture cook for about 20 minutes over a medium heat. Fill the aubergines with the prepared stuffing, cover each stuffed aubergine with a tomato slice and bake in medium oven for about 45 minutes.
Recipe Archive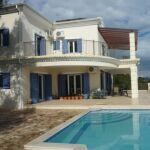 Corfu Premier Property
A selection of the most prestigious, exclusive, stunning & interesting
Corfu Property For Sale