» Home
» Accommodation
» News & Weather
» Activities
» Travel
» Food & Drink
» Out & About
» Culture
» Information
» Property
» Non-Profit
» Contact Us
» Site Search
» Site Map
Corfu Recipes - Souvlaki
This page gives you the opportunity to re-create some of your favourite Corfiot taverna recipes at home. This time Pitta Souvlaki with Tzatziki, Greece's favourite "fast food".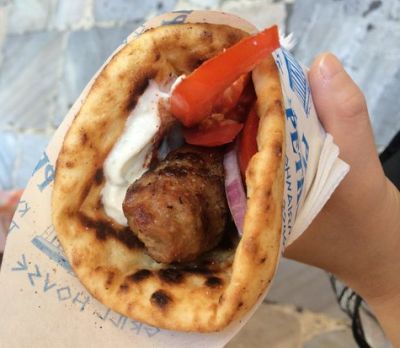 Ingredients - 1 kg of pork or lamb cut into 2.5cm cubes. 6 Pitta breads. Juice of 4 lemons. Salt, pepper and oregano. 6 wooden skewers. 2 cups plain yoghurt. Half a cucumber, peeled and grated. 2 garlic cloves, minced. 3 tablespoons of olive oil.
Instructions - Begin preparing the tzatziki a few hours before serving. The flavours need time to blend. Line a colander or sieve with cheesecloth (or gauze) and set it over a bowl. Pour in the yoghurt and allow it to drip for an hour or so. After the yoghurt has drained, combine it, in a small bowl, with the cucumber and the garlic. Cover the bowl tightly with plastic wrap and refrigerate until just before serving. Drizzle the olive oil over the surface, and without stirring, sprinkle on the salt. It needs no mixing.
Put the pork meat on the wooden skewers and salt and pepper them. Grill them. In the meantime, spread some oil on the pittas and place under the grill, slightly browning each side but not drying them. When the meat is done, dip them in a long glass containing the lemon juice and then holding a pitta bread in one hand empty the skewer contents into it removing the skewer. Sprinkle with oregano and salt, add tzatziki and the souvlaki is ready.
Recipe Archive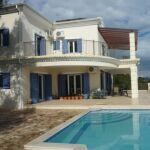 Corfu Premier Property
A selection of the most prestigious, exclusive, stunning & interesting
Corfu Property For Sale