» Home
» Accommodation
» News & Weather
» Activities
» Travel
» Food & Drink
» Out & About
» Culture
» Information
» Property
» Non-Profit
» Contact Us
» Site Search
» Site Map
Corfu Recipes - Bianco
This page gives you the opportunity to re-create some of your favourite Corfiot taverna recipes at home. This time, a classic Corfiot dish, Bianco - a garlicky fish stew, so called because it uses no tomatoes.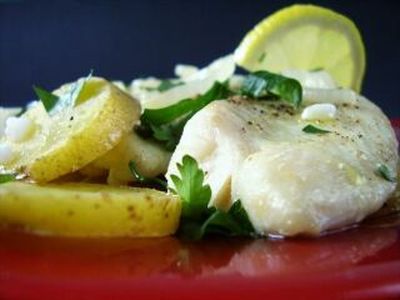 Ingredients - 1 kg sea bass or similar fish. 4 cloves of garlic, mashed. 300 grams potatoes, peeled and cut in wedges. A lemon. The juice of one lemon. 1 cup olive oil. Salt. Black and white pepper.
Instructions - Heat the olive oil in a pan and saute the garlic. When it becomes slightly brown add some water, the fish and the potatoes and simmer. Season with salt and pepper. Simmer slowly until the fish is cooked and the potatoes are tender, adding a little water from time to time. (Add the water gradually in order to ensure that the sauce will remain thick until the end.) Remove from the pan, serve onto plates, pour some lemon juice over each portion and garnish with a wedge of lemon.
Recipe Archive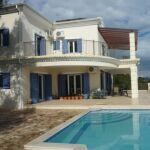 Corfu Premier Property
A selection of the most prestigious, exclusive, stunning & interesting
Corfu Property For Sale