» Home
» Accommodation
» News & Weather
» Activities
» Travel
» Food & Drink
» Out & About
» Culture
» Information
» Property
» Non-Profit
» Contact Us
» Site Search
» Site Map
Corfu Recipes - Taramasalata
This page gives you the opportunity to re-create some of your favourite Corfiot taverna recipes at home. This time Taramasalata. The most authentic roe to use is tarama, the dried and salted roe of the grey mullet. Smoked cod's roe can be used instead, in which case the skins will need to be removed first.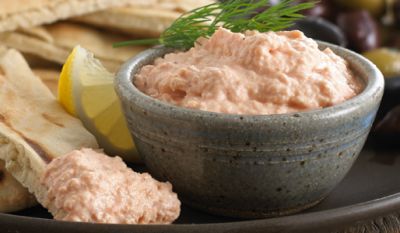 Ingredients - Thick slices stale white bread, 1/4 cup cold milk, 100 gr fish roe paste, 3/4 cup olive oil, 1/2 small onion finely grated, lemon juice to taste.
Instructions - Remove the crust and soak the bread in the cold milk. Meanwhile, beat the roe thoroughly in a mortar or in a blender until it is soft. Squeeze the bread dry and crumble into the roe. Add the onion, half the lemon juice and beat (or blend) to a creamy paste. When it is smooth continue to beat or blend while dribbling in the olive oil and the rest of the lemon juice. Chill and serve as a dip. It keeps for about 10 days in a sealed container in the refrigerator.
Recipe Archive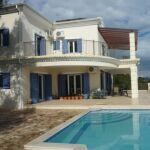 Corfu Premier Property
A selection of the most prestigious, exclusive, stunning & interesting
Corfu Property For Sale