» Home
» Accommodation
» News & Weather
» Activities
» Travel
» Food & Drink
» Out & About
» Culture
» Information
» Property
» Non-Profit
» Contact Us
» Site Search
» Site Map
Corfu Recipes - Psarosoupa
This page gives you the opportunity to re-create some of your favourite Corfiot taverna recipes at home. This time Psarosoupa (Fish Soup) with Egg and Lemon Sauce. For this traditional soup the Corfiots use a red rockfish called "Scorpios" (or scorpion). Any firm-fleshed, non-oily, white fish can be substituted.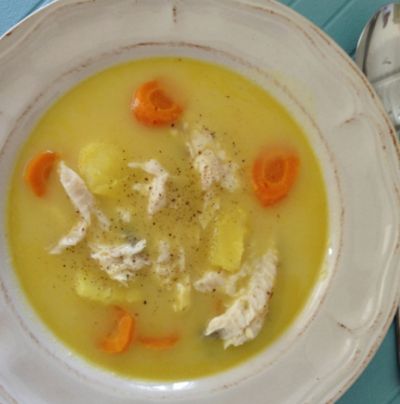 Ingredients - 2.5 kg fish (fresh or frozen) with the head, tail and fins on, de-scaled, de-gilled, gutted and rinsed. 1 large onion. 6 sprigs parsley. 1 carrot. 1 cup rice. 1 egg. Juice of a lemon. 2 large peeled potatoes. 1 celery stalk. Salt and Pepper. Olive oil.
Instructions - Cut the fish into large pieces and salt and pepper it. Put it into a soup pot and cover with water. You can either quarter the vegetables so that they can be served on the side as an accompaniment with the fish. This will also give you a plain fish stock-rice soup. Or you can cut the vegetables into chunks to boil and then puree them, adding them back to the soup for a thicker version of fish stock-rice soup. Or you can dice the vegetables into spoon size pieces and leave them in the soup as they are. If you are using vegetables that have been quartered and will be served on the side or vegetables that will be pureed, cook them now with the fish. Bring it to a boil and cook for 25-30 minutes. Strain the broth into another soup pot. Always remember to strain fish from the broth to make sure that there are no stray bones or scales in your soup. Set the fish and vegetables aside and keep warm. If you will be pureeing the vegetables, carefully remove them from the fish, keeping an eye out for bones. Put them through a blender and mix it back into the broth. Bring the strained fish broth back to a boil, reserving 2 cups of stock for the egg-lemon sauce. If your vegetables are set aside with the fish or have been pureed, just add the rice and let it cook in the stock. If you are making a hearty version, add the rice and vegetables now so they can cook together. You may have to add more salt and pepper. Once the rice is done, remove the soup from the heat and set aside. Beat the egg for 2 minutes. Continuing to beat, gradually add the lemon juice. Then very slowly add the cooking liquid, beating steadily, until has all been added. Cook over hot water, not boiling, stirring constantly until the sauce thickens enough to coat a spoon. Pour the egg lemon sauce into the soup. Serve the fish on a platter with extra lemon wedges. If you would like to serve the soup 'ready', you can pick the fish and return the flesh to the soup instead of serving the fish separate.
Recipe Archive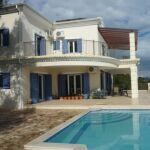 Corfu Premier Property
A selection of the most prestigious, exclusive, stunning & interesting
Corfu Property For Sale