» Home
» Accommodation
» News & Weather
» Activities
» Travel
» Food & Drink
» Out & About
» Culture
» Information
» Property
» Non-Profit
» Contact Us
» Site Search
» Site Map
Corfu Recipes - Bougatsa
This page gives you the opportunity to re-create some of your favourite Corfiot taverna recipes at home. This time, Bougatsa - a sweet cream pie.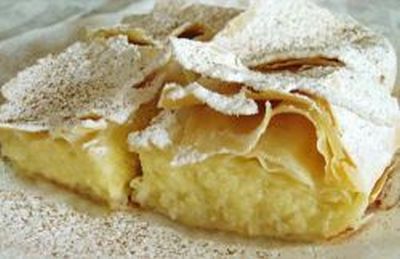 Ingredients - Half cup unsalted butter. Half teaspoon cinnamon. 1 egg. 1 egg yolk. 8-10 sheets filo pastry. Icing sugar. 2 teaspoons lemon juice. One and a half cups milk. Quarter cup semolina. Half cup sugar. Half teaspoon vanilla. Salt.
Instructions - Beat the eggs until frothy and beat in the sugar until thick and foamy. Set aside. Heat the milk in a medium size pan until hot but not boiling. Remove from the heat. Whisk a small amount of the hot milk slowly into the egg mixture. Pour the egg mixture into the hot milk, whisking quickly and constantly so that eggs don't curdle. Return to a medium-low heat and cook, stirring constantly, for about 3 minutes. Gradually sprinkle in the semolina and add a pinch of salt. Reduce the heat to very low and cook, stirring constantly, until thick and smooth for about 5 minutes. Remove from the heat and stir in two tablespoons of butter. Bring to room temperature, stirring occasionally. Stir in the lemon juice, vanilla and cinnamon. (Make sure the custard has cooled before continuing.) Preheat the oven to 375 degrees. Unroll one sheet of filo pastry and place it on a tea-towel for easy folding. Brush lightly with melted butter. Place three tablespoons of custard on the lower third of the pastry. Spread evenly nearly covering the lower third of the pastry. Fold the right and left sides of pastry towards centre so that edges just meet. Lightly brush the folded sides with butter. Fold the lower third up and brush with butter. Fold the upper third down, to form an envelope and brush with butter. Lightly brush the top and bottom of the custard filled 'envelope' with butter and place it on an ungreased baking sheet. Repeat with the remaining filo pastry and filling. Bake until golden-brown for about 15 minutes. Serve warm, lightly dusted with icing sugar and cinnamon.
Recipe Archive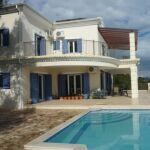 Corfu Premier Property
A selection of the most prestigious, exclusive, stunning & interesting
Corfu Property For Sale