» Home
» Accommodation
» News & Weather
» Activities
» Travel
» Food & Drink
» Out & About
» Culture
» Information
» Property
» Non-Profit
» Contact Us
» Site Search
» Site Map
Corfu Recipes - Lentil Soup
This page gives you the opportunity to re-create some of your favourite Corfiot taverna recipes at home. This time, Lentil Soup.

Ingredients - Half kg lentils. 3 or 4 tomatoes, chopped. 2 or 3 bayleaves. 3 cloves of garlic. 2 onions, chopped. Salt and pepper. Vinegar.
Instructions - Check the lentils and remove any stones. Cover with water and bring to the boil. When they start boiling, remove from heat and rinse them well. Cover with fresh water. Add the garlic, the onions and the tomatoes and let them boil with the lentils for about one hour at a medium heat until they are tender. Serve the lentil soup hot with olives. You can add vinegar to the soup if you like.
Recipe Archive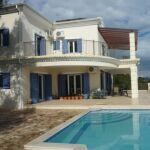 Corfu Premier Property
A selection of the most prestigious, exclusive, stunning & interesting
Corfu Property For Sale