» Home
» Accommodation
» News & Weather
» Activities
» Travel
» Food & Drink
» Out & About
» Culture
» Information
» Property
» Non-Profit
» Contact Us
» Site Search
» Site Map
Corfu Recipes - Stuffed Aubergines
This page gives you the opportunity to re-create some of your favourite Corfiot taverna recipes at home. This time Stuffed Aubergines - known in Greek as "Papoutsakia" (or "little shoes").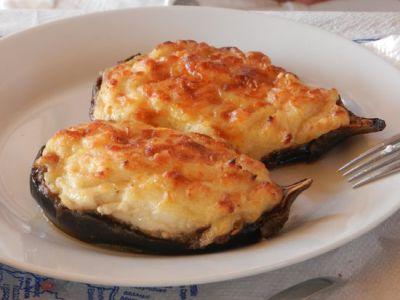 Ingredients - 2 medium onions, finely chopped. 1 egg, slightly beaten. Half kg minced meat. Half cup grated hard cheese. Quarter cup butter. 2 tspns dry breadcrumbs. 2 medium tomatoes, chopped. 1 kg aubergines. 2 tspns salt. 1 cup bechamel sauce. Half tspn pepper. 1 egg, beaten. Chopped parsley. One and a half cups tomato sauce.
Instructions - Brown onions and meat lightly in butter, stirring constantly. Add tomatoes, salt and pepper. Cook covered for about 15 minutes. Remove from heat. Add parsley, egg, quarter cup cheese and bread crumbs. On the 'top' of each aubergine, peel an inch strip from one end to the other and make an incision along this strip to within an inch of each end. Place in baking dish and bake in moderate oven until soft and light brown (about 30-45 minutes). Insert knife blade into incision and stuff with meat mixture. Prepare bechamel sauce. Pour about a tablespoon on top of each aubergine. Sprinkle with additional grated cheese and dot with butter. If desired, add tomato sauce to the pan. Bake in a moderate oven for about 35 minutes.
Recipe Archive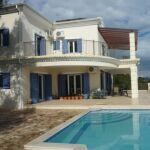 Corfu Premier Property
A selection of the most prestigious, exclusive, stunning & interesting
Corfu Property For Sale