» Home
» Accommodation
» News & Weather
» Activities
» Travel
» Food & Drink
» Out & About
» Culture
» Information
» Property
» Non-Profit
» Contact Us
» Site Search
» Site Map
Corfu Recipes - Bourou-Bourou
This page gives you the opportunity to re-create some of your favourite Corfiot taverna recipes at home. This time, Bourou-Bourou - a pasta and vegetable soup. This soup is a creative affair. Use any vegetables you happen to have on hand, and adjust the hot pepper to taste.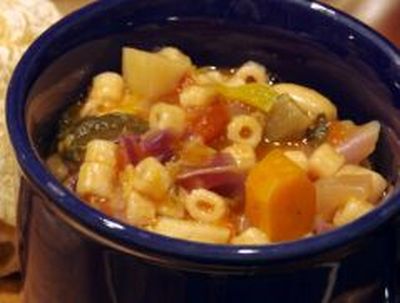 Ingredients - 200 grms spaghetti broken into 2.5 cm pieces. 1 ripe tomato cut into chunks. 1 medium potato peeled and cut into cubes. 1 green pepper cut in chunks. 3 carrots peeled and cut in half. 1 bunch celery cut in chunks. 1.5 tablespoons of tomato paste. Half teaspoon of hot red pepper. Half teaspoon of sea salt. Half teaspoon of freshly ground black pepper. 2 tablespoons of olive oil.
Instructions - Put all the vegetables in a large pot and add enough water to cover well. Bring to a boil over medium heat and cook until the vegetables are tender and the potato is soft (about 20 minutes). Stir in the tomato paste and continue to boil for another 5 minutes. Add freshly ground black pepper, hot red pepper, salt, and olive oil. Add pasta and cook per manufacturer's directions (or less for "al dente").
Recipe Archive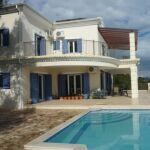 Corfu Premier Property
A selection of the most prestigious, exclusive, stunning & interesting
Corfu Property For Sale