» Home
» Accommodation
» News & Weather
» Activities
» Travel
» Food & Drink
» Out & About
» Culture
» Information
» Property
» Non-Profit
» Contact Us
» Site Search
» Site Map
Corfu Recipes - Moussaka
This page gives you the opportunity to re-create some of your favourite Corfiot taverna recipes at home, this time Moussaka.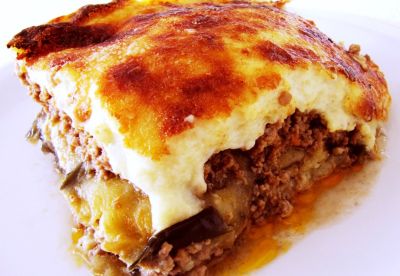 Ingredients - 4 or 5 aubergines, 4 or 5 potatoes (boiled and sliced), 1/2 kilo minced meat, 2 or 3 ripe tomatoes (or 1 tin chopped tomatoes), 1 teacup olive oil, 2 medium onions finely chopped, 1 bay leaf, 1 clove of garlic, a pinch of dried oregano, 1/2 teaspoon or one stick of cinnamon, 1/2 cup grated cheese, bechamel sauce, salt and pepper.
Instructions - Slice the aubergines and soak them in salted water for an hour to remove the bitter taste. Heat the oven to 180c. Heat the cup of oil in a large pan and saute the onions. Add the meat and cook for 10 minutes. Add the tomatoes, garlic, herbs, salt and pepper. (If using a cinnamon stick remove after cooking.) Cook for 1 hour. Drain the aubergines, coat them with flour and fry them in very hot oil. In a baking tray place a layer of potato slices, season, a layer of aubergine slices on top, season and finally a layer of meat sauce (drained of all excess liquid). Repeat until all the ingredients have been used. Make the bechamel sauce and pour over the moussaka. Sprinkle with cheese. Bake for approx 30 to 40 minutes until the bechamel is a light brown colour. Leave to cool for approx half an hour before serving, cut into squares and serve warm.
Recipe Archive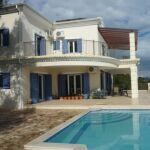 Corfu Premier Property
A selection of the most prestigious, exclusive, stunning & interesting
Corfu Property For Sale