» Home
» Accommodation
» News & Weather
» Activities
» Travel
» Food & Drink
» Out & About
» Culture
» Information
» Property
» Non-Profit
» Contact Us
» Site Search
» Site Map
Corfu Recipes - Artichoke Stew
This page gives you the opportunity to re-create some of your favourite Corfiot taverna recipes at home. This month Artichoke Stew.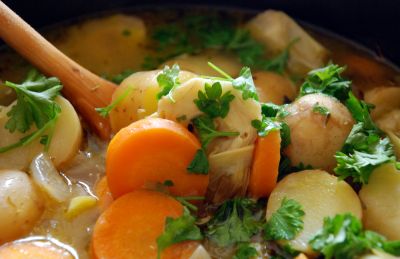 Ingredients - 8 small artichokes or 4 large ones. 2 lemons. Quarter pint olive oil. 1 onion, finely chopped. 4 large carrots. 14 very small whole onions. 4 large potatoes. 1 tsp flour. 1 bunch fresh dill, chopped or 1 tbsp dried dill. Salt and fresh ground pepper.
Instructions - Trim the artichokes, cutting off the stem, the tough outer leaves, and the tops of the other leaves. Scrub them, rub then with lemon, and put them into well-salted water to keep them from turning black. Put the olive oil in a very large, fireproof casserole or pan and sauté the chopped onion in it while you prepare the other vegetables. Scrape the carrots and cut them into 1-inch pieces. Peel the whole small onions. Peel the potatoes and cut them into about 6 pieces each. Add all the vegetables except the artichokes to the hot oil and turn them over for a few minutes until the potatoes begin to turn golden. Add the flour and dill and stir very well. Take the pan off the heat and arrange the artichokes in it, fitting the onions and pieces of carrot and potato around them. Squeeze in the juice of 1 lemon, add some salt and pepper and add enough hot water to just cover the vegetables. Put on a tight fitting lid, and stew at 200 degrees C for 50 -90 minutes, depending on the size of the artichokes. The water should be simmering gently. Serve very hot. The liquid becomes a delicious sauce, just a bit thickened by the potatoes.
Recipe Archive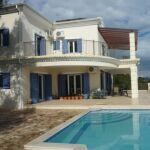 Corfu Premier Property
A selection of the most prestigious, exclusive, stunning & interesting
Corfu Property For Sale