» Home
» Accommodation
» News & Weather
» Activities
» Travel
» Food & Drink
» Out & About
» Culture
» Information
» Property
» Non-Profit
» Contact Us
» Site Search
» Site Map
Corfu Recipes - Octopus with Paprika
This page gives you the opportunity to re-create some of your favourite Corfiot taverna recipes at home. This time Octopus with Paprika. This dish can also be served as an appetizer for drinking with ouzo and is also considered a lenten dish, suitable for those who are fasting.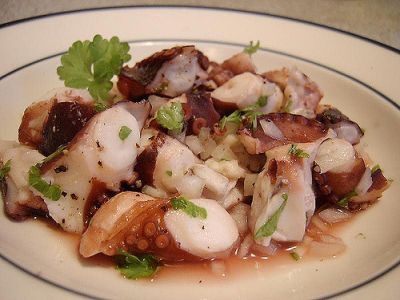 Ingredients - 1 large octopus. 2 large sliced onions. 1 clove garlic clove. 4-5 medium potatoes. One and a half glasses of water. Tomato paste. One and a half wine glasses of oil. 1 vegetable stock cube. Salt. Black pepper. Piquant paprika.
Instructions - Clean and wash the octopus. Cut the body into slices and chop the tentacles into pieces. Wash the octopus again and strain it. Melt the stock cube in hot water. Heat the oil in a large saucepan and cook the onions and the garlic. Add the cube, the octopus and stir. Saute the octopus until it takes on a red colour. Add water and boil the octopus until it becomes tender. Gradually add the tomato paste, the peeled and quartered potatoes, one spoonful of paprika and pepper. Let the sauce thicken. Optionally add half glass of white wine and let it evaporate. Taste and season.
Recipe Archive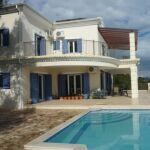 Corfu Premier Property
A selection of the most prestigious, exclusive, stunning & interesting
Corfu Property For Sale