» Home
» Accommodation
» News & Weather
» Activities
» Travel
» Food & Drink
» Out & About
» Culture
» Information
» Property
» Non-Profit
» Contact Us
» Site Search
» Site Map
Corfu Recipes - Christopsomo
This page gives you the opportunity to re-create some of your favourite Corfiot taverna recipes at home. This time Christopsomo - Greek Christmas Bread. Traditionally on Christmas Eve every household would bake a Christopsomo or "Christ bread". The loaf is often decorated with engravings on the crust that represent aspects of the family's life and profession.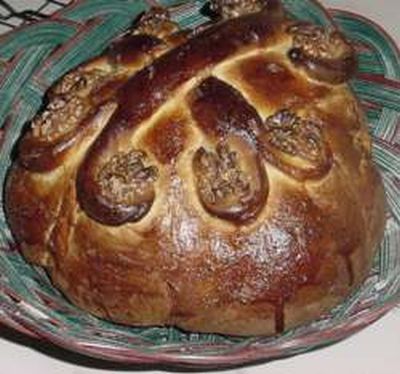 Ingredients - 1 package active dry yeast. 1/4 cup warm water. 1/3 cup sugar. 1 tsp ground cardamom seeds (seeds removed from the exterior husk). 1/4 tsp salt. 1 egg. 1/4 cup milk. 1 tsp salt. 1/4 cup melted butter. 1 and 1/2 cups whole wheat flour. 1 cup all purpose flour. 1/4 cup golden raisins. 1/4 cup chopped walnuts.
Instructions - Grease an 8-inch circular cake pan. Dissolve the yeast in the warm water and allow to stand for a few minutes. Meanwhile, combine the sugar, salt, egg, milk, cardamom and butter in a large bowl and mix well. Add the yeast mixture, both types of flour, raisins and the walnuts. Mix well. If the dough is too moist, add a little all purpose flour to make softer dough. Turn the dough out onto a floured surface and knead by hand until it is smooth and elastic, about 5 minutes. Shape into a round loaf. Place the dough into the cake pan, cover with a towel and allow to rise in a warm place until doubled in volume. Meanwhile, preheat the oven to 350. When risen, bake the loaf for 35 to 40 minutes or until brown and it sounds hollow when tapped on the bottom.
Recipe Archive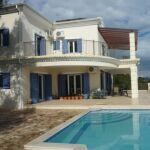 Corfu Premier Property
A selection of the most prestigious, exclusive, stunning & interesting
Corfu Property For Sale