» Home
» Accommodation
» News & Weather
» Activities
» Travel
» Food & Drink
» Out & About
» Culture
» Information
» Property
» Non-Profit
» Contact Us
» Site Search
» Site Map
A Trip to Sivota - Hilary Paipeti
Several years ago I took a trip on George's Boat, out of Aeolos Beach, to a mainland village called Mourtos. I remember eating fish at one of two or three simple little tavernas, and then carrying on to a deserted cove for swimming. I've never been to Mourtos since, and hadn't been able even to find it on a map. I imagined it must still be too small to rate a mention.
Recently we took a trip on the caique Eros, out of Benitses, destination Sivota. I had heard about this mainland port, and the high class tourism it is attracting. Glossy brochures show sea caves with turquoise and azure water, and a harbour front jostling with expensive yachts and motor cruisers.
Turns out it was Mourtos after all. They changed the name while I wasn't looking.
As late as fifteen years ago Mourtos had no road, and was only accessible by boat. Then the road came, and with it tourism. Sivota residents grumble that lack of a nearby airport limits development possibilities, and that the location remains relatively unknown, but instead of the low-spending, sun-and-sand visitors that an easily accessible and heavily promoted destination would attract, they are at the receiving end of high quality tourism. The headlands are dotted with expensive new villas, most occupied by visitors from the nearby mainland town of Ioaninna, and from Athens and Italy. It enjoys a reputation as one of the top sailing destinations in the Ionian, and indeed at anchor in the bay we saw several huge two-masters.
Sivota is directly opposite Kavos geographically (and in appearances!) so the trip with Eros (the 'Love Boat') was a long one. But Captain Angelos first headed for Alikes in southern Corfu, where the sandy-bottomed sea is warm and inviting, and so shallow that the caique grounded, and we all had to move to the prow to tip the boat so that the propeller lifted out of the sand. When we left for the 45 minutes to the mainland shore, Angelos and his crew Thanasis brought out our picnic, a perfect summer feast of fresh mixed salad and tuna and tzatziki on the side, and juicy watermelon to follow.
Meal washed down, we approached the mainland shore. This trip was actually our second on the Eros within a week; the first was to the small mainland port of Sagiada, tucked up close to the Albanian border. There, the dusty little port, famed for its prawns, was backed by high mountains, parched with the sun and dotted with a few stunted trees. In contrast, Sivota is an oasis of green. Around the headlands and along the bays, the trees and shrubs overhang the cliffs like beetling brows, and like a healthy head of hair mat the hillsides in shades of jade, emerald and beryl. The cliffs are fissured, with many hollows where boulders have tumbled, and as many arches and flying buttresses as a Gothic cathedral.
The caique entered the largest hollow, a huge sea cave. The roof soared above us, and below, we could see fathoms down clear to the sandy bottom. As Mouse Island is for Corfu, this cave is Sivota's trademark.
Captain Angelos steered for the harbour, well hidden by promontories and small islands, all carpeted with the familiar greenery. If it was not for a few sea-view villas and the double mast of a yacht spearing the sky, we would not have known it was there. In bygone, lawless days, it must have been a great lair for lurking pirates.
We moored beside a hulking motor yacht, at a pristine harbourside, paved with local stone and planted with bright flower beds. Civic pride is in evidence here. The simple little tavernas I remembered had been supplanted with more sophisticated joints, a row of them right around the harbour front. We picked the furthest, in the northern corner, only because it had the best view along the quay. Its name, nostalgically, is Mourtos, but it bears no relation to the tavernas of the past. Indeed, it was soon clear that we had stumbled on something special - a restaurant fitted out for Kolonaki in Athens, and serving Greek Nouvelle Cuisine. Perhaps reflecting its expected clientele, the furnishings are elegance exemplified, with tables set with linen and spotless silverware. We were quickly served with white wine in an ice bucket, and two giant-sized plates with fish concoctions looking like they'd been artfully styled for a glossy foodie magazine. They looked too good to eat, but one toppled over while we were admiring it so we decided to tuck in - and the taste was quite the match of the presentation. The fallen pile of fish, topped with marinated onion rings and mandarin segments and surrounded by an artistic swirl of balsamic vinegar, turned out to be a variation of our old friend Savouro - sardines fried and then marinated in a light vinegar with herb flavourings. The other plate carried a pile of red mullet fillets double-sandwiched with rings of stuffed squid, and again was beautifully arranged. The "salad" continued the fishy theme; it was a glass of delicate pieces of fish and prawns, sitting in a light lemon and herb marinade. What a change from the platters of fried and grilled fish which is normal summer seaside fare! And despite the originality and quality of the food, prices were cheaper than in Corfu's fish tavernas. Another reason to take a trip to Sivota. Before the hordes discover it.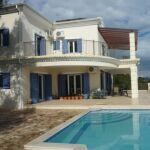 Corfu Premier Property
A selection of the most prestigious, exclusive, stunning & interesting
Corfu Property For Sale