» Home
» Accommodation
» News & Weather
» Activities
» Travel
» Food & Drink
» Out & About
» Culture
» Information
» Property
» Non-Profit
» Contact Us
» Site Search
» Site Map
Boom Town Albania - Hilary Paipeti
In July 1991, in the company of Stavros Karvounis, a Greek journalist, I visited Albania for the first time. The communist regime had recently fallen, and the country was preparing for its first post-war elections. During a ten-day stay, we reached parts of the country where the people had never seen a foreigner, places depopulated by the rush of young men to Greece, hoping for a better life. With only three months' food left, Albania was on the verge of starvation.
I visited again in July 1992, to find a country where the optimism engendered by the approaching elections was fast diminishing. 'When will our lives get better?' one young woman cried as if in pain. 'Take us away! We so much want to have a better life!'
I could provide no vain reassurance, no false comfort. I felt that life would get worse before it could get better. And indeed it did. The people of Albania would suffer the collapse of the Pyramid Banking Scheme (a fraud initiated at the highest level of government), anarchy and virtual civil war, played out against the images on international television of those boat-loads of refugees who would take any risk and undergo any hardship to find a refuge from desperation.
We have lived through years when our island was a magnet for bedraggled and emaciated men looking for work - any work - and somewhere to sleep, even a windowless bothy. Happily, we have seen many of them make a success of their lives. And, visiting Albania again after so many years, I found many indications that the country is on the road to prosperity too.
July 1992: Saranda approaches, its grim apartment blocks (it's a cruel linguistic twist that in Albanian they are called 'palati') dispersed under the same sun that blesses Corfu. The port as usual is in a state of torpor, the arrival of the Petrakis being the main event of the day. But now even the people seem listless, and the boatload of visitors is not greeted by the expected sea of faces and forest of hands, drinking in, touching, these strangers from the West. Perhaps we've just become part of the wallpaper, or perhaps the hope that we would bring them a better life has died.
December 2003: The sleek Flying Dolphin of the Petrakis Line is waiting at Corfu Port, warming up for its daily task of connecting the Albanian community of Corfu with their relatives and business interests in Saranda and Heimara. They are well fed and neatly dressed in fashion, and most carry boxes and bags of shopping supplies and luxury goods. Among them is an old acquaintance, a Northern Epirot lady who, courageously with her three teenaged children, was an early refugee. She has built up a successful dressmaking business in Corfu, and has recently opened two shops in Saranda, one of which specializes in wedding outfits. Her two daughters have made advantageous and happy marriages with Corfiots, and her son is currently extending his hotel on the Saranda promenade.
The Flying Dolphin takes less than half an hour to gain the Albanian coast, and the first surprise is the sight of burgeoning development on what formerly was a wilderness shoreline. Concrete blocks in all stages of construction, from skeleton to finished palace, are going up on every possible plot.We soon dock at the tidy port. Our paperwork is dealt with by polite and efficient officials, no suspicious questions asked, and a car with driver, and Demir, our elegantly dressed guide, are waiting to whisk us off.
July 1991: Few vehicles cross Skenderbeg Square (Tirana). It resembles more a pedestrian precinct than the heart of a European capital city. People walk everywhere, aimlessly it seems, and the predominant sound is the 'scrip, scrup' of their lazy walk, as worn sandals drag across cobbles.
Nevertheless, driving is hazardous, since no-one expects traffic, and people wander blindly. But despite the lack of cars, two vehicles have contrived at an intersection to collide.
Behind the facade of the square, nothing looks cared for, least of all the shabby residences that seem built to become instant slums. Here, in apartments of two or three rooms, live the families of Tirana, without lifts, or even a trustworthy water supply.
December 2003: The chunky, long wheelbase Mitsubishi set off along the one-way system that operates in Saranda. Traffic measures are vital, for the streets are nose-to-tail with Mercedes, with more parked along the roadsides. If the Mercedes company wanted to collect an example of every model they have produced in the last 20 years, this is where they should come. Not a few are latest-models.
We pick up Aaron Tare (in his Mercedes). 'Ani' is Director of the Butrint National Park and we are lucky to have him as our guide to the extraordinary archeological site which is our first destination.
Once I was able to find my way round the streets of Saranda to visit friends, even though the grim 'palati' all looked identical. Now, hardly one of these tenements remains. Many Albanians found work in Greece's construction industry, and they have brought back all the tricks of the trade. Unfortunately, they have also been exposed to the most banal architectural styles, so that invariably a new building comprises a cube with cantilevered balconies. All the way along the coast road out of Saranda, similar buildings are sprouting, as they also are on the hillside directly above the main part of the town. But the village of Ksamili provides the worst examples, ugly new concrete structures interspersed with old cottages - poorly-built but at least picturesque - and surrounded with drifts of plastic waste, for infrastructure has not caught up with consumer supply.
Then the road passes through a break in a low wall, and it enters a different world. Small, well-tended olive trees border the road, the grass is cropped by herds of sheep, and the litter is gone. We are inside the Butrint National Park, the only one (so far) in the country.
From the Butrint National Park Development Study: The Butrint National Park is a protected area of 29 square kilometres established by the Albanian government in March 2000. It is located 15 kilometres south of the port town of Saranda, a short distance from Corfu. The Park comprises a diverse landscape of high mountains, foothills, open plains, lakes and lagoon areas. The landscape is unspoilt by development and is rich in habitats which support 14 Globally Endangered Species. At its centre is the main archaeological site of Butrint. This site, framed by the waters of the Vivari Channel and Like Butrint (below) and hidden in woodland, is a magical place. The unique combination of archaeology and nature creates a special atmosphere found nowhere else in the Mediterranean. Beyond the main site other monuments illustrate over 3000 years of human occupation. The Park is a UNESCO World Heritage Site.
The Park forms part of a wider complex of wetlands and karstic mountain ranges, with enormously rich and diverse plant life - a quarter of the total number of species recorded in Albania - and a biodiversity of international importance. A World Bank funded development study has proposed a series of wide-ranging and imaginative actions aimed at enhancing the infrastructure for visitors. The actions include better access (a road direct from Igoumenitsa is planned), interpretive facilities, non-impactive transport arrangements, waymarked trails and general environmental management. Ani's serious intentions are indicated by the demolition of several illegal businesses that had been built by speculators at the main entrance to the archaeological site, and by his insistence that a bridge should not replace the cable ferry which gives traffic access to villages, 'as a way of controlling and discouraging traffic travelling through the Park.'
So we entered the archaeological section of the Park. An hour-long walk takes visitors through the excavations (though the remarkable remains will delay you at every corner). It's like a nature trail but with ancient remains set amongst the trees. Our tour started with a look at some ancient walls that formed part of the city defenses. These particular remains are newly uncovered, but the site as a whole was first excavated as early as the 1920s and 1930s by Italian archaeologists, and work was continued by the Albanians in the 1980s. Today it is sponsored by the Butrint Foundation, established by Lords Rothschild and Sainsbury.
The first stunning section of the site is an extensive complex of buildings which adjoined the forum - a well-preserved theatre where performances of opera and dance are organized in summer, a Roman bath house and other public buildings.
'The early Christians were suspicious of the bath-house and the theatre,' explained Ani, 'because they regarded them as places where youth got corrupted. They discouraged their use, and baths were moved inside people's houses as private facilities. But later the Byzantines re-established the tradition, and then the Ottomans took it over. So what we know as the Turkish Bathhouse is actually a Roman invention, if not one from earlier times.'
The Early Christian Baptistry is one of the treasures of Butrint, but its wonderful mosaic floor is covered with plastic sheeting and soil to preserve it. The Baptistry was used for mass christenings, supervised by the Bishop. Those baptized were then permitted to worship at the nearby well-preserved Basilica (right) - a structure dating from a single time-period, a characteristic that makes it almost unique in the Greek world, where churches have been rebuilt and refurbished time and time again over the centuries.
One of the charms of the site is that all the vegetation has been left in its natural state, covering a wealth of undiscovered remains. 'Let's leave something for coming generations to excavate,' says Ani. An occasional break in the trees gives a vista of the Vivari Channel and the lake, exploited only by local fishermen. The best preserved section of the walls, characterized by huge dressed stones from Hellenistic, Roman and Byzantine periods, runs above the shoreline.
Also on the edge of the lake, they found a huge palace, dating from the 4th century AD. Its importance was underlined by the discovery that it had its own private mooring. Here, in 2003, excavations uncovered a find which rocked the historical world. It is an object believed to be a chess piece, and if it proves to be so, it will change current perceptions of the origin of the game. 'We know chess was played in 8th century Persia,' explained Ani. 'And we know that the Byzantine Emperor Alexis Comnenus played it in the 12th century. But this find may prove that the game was played in 4th century Rome.'
The walk around the site concludes with a climb to the Acropolis, where the Italians built a 'castle', which will soon house the museum. Once this is open, and other archaeological and ecological locations are accessible (just one of these is a settlement extending over 24 hectares on the Vrina Plain), the Butrint National Park will need more than the whistle-stop tour that we devoted to it.
Southern Albania is booming. The streets of Saranda are nose-to-tail Mercedes, and concrete structures are going up where once grim apartment buildings stood - the government housing where two and a half rooms were designated for each family. The promenade which sweeps around the seafront has been pedestrianized and paved and, with its cafes and restaurants, is a magnet for evening strolls.
Pride of the town is the Hotel Butrint, where I stayed on visits in 1991 and 1992.
July 1992: Hotel Butrint. Hot running water, spring mattresses, clean sheets. But signs of decline have reached even the 'showpiece'. The blinds are broken, the lift doesn't work, and there is no loo paper. The outdoor restaurant is closed (this time last year it was full, and serving grilled sheep's heads) and there is no beer in the bar, though,m oddly, there is in the next-door restaurant. Over tomato salad, feta and tough kebab, we watch the sun die on the waters beside Corfu, so near and yet so far.
December 2003: Trashed during the troubles in 1997, the hotel has been completely renovated and refurbished. Sparkling marble, sophisticated lighting, smart receptionists. We asked the management to give us a tour, and our conclusion was that Corfu's hoteliers need to pull their socks up. Here is a top-class hotel which would not look out of place in any of the world's big cities. It knocks spots of London's Olympia Hilton, the last hotel I stayed in. The Junior Suites with their Italian tile and marble bathroom and tennis-court space, are a major bargain at 110 euros a night. You pay an extra 90 euros for a Grand Suite, which has a sea view.
We were not destined for such luxury. We didn't have money to burn, and our elegant guide Demir had recommended the next door Grand Hotel as a more economic alternative. A niggling concern that economy would equal squalor was soon dispelled by the (now expected) gleaming reception and bar area. The rooms were, if anything, more spacious than the regular ones at the Butrint, and had solid wood furniture, spotless Italian-tiled bathrooms with fluffy towels and loo paper. They opened directly onto a view over the channel to Corfu - for the Grand Hotel, unlike the Butrint, is waterfront, with its own pool on the beach. All this for 20 euros a night.
July 1991: From my notebook - a hotel in Ballsh. Sitting room like a 1950's waiting room. Sofa with lime and moss green patterned cretonne, orange and brown cubes in chairs, dirty brown and orange carpet, green walls, green dirty paint doors, sprig of plastic daffodils, nylon curtains. Bathroom unspeakable - Turkish too. Flushed by hose from tap in basin, which also acts as shower.
December 2003: How life has changed! It was time to find a place for dinner.
July 1991: The dingy restaurant in the Hotel Tirana was packed with lunchers. 'Potatoes, pilaff, tomatoes.' The waiter reeled off the menu choice, not requiring a great memory capacity to do so. We ordered potatoes. Two minutes later he was back. 'No more potatoes.' So we asked for the pilaff. 'Pilaff not good.' Finally, like every day, we lunched on bread and tomatoes.
December 2003: Brightly lit, with wrap-around picture windows allowing diners to enjoy the sea view, the restaurant's tables were laid with linen and silverware. Saranda is famed for its fish, and we ordered mezes of octopus and squid. We were quite surprised when, instead of the expected little plate of octopus in vinegar and rings of fried squid, a huge platter came to the table. It was a heavenly fish salad, containing squid, octopus and prawns, all boiled, still warm and dressed generously with parsley, garlic, oil and lemon. We continued with fish for our second course - grilled gilt-head bream and red mullet, one of each for all. Excellent wine and several different fresh salads, and the bill was 65 euros for six.
The next day, our first stop was the bustling street market we had passed the day before.
July 1991: Food seems freely available only in the private markets, where agricultural workers sell their meagre surplus. Even here, the rich choice of the Mediterranean market is lacking. There are cucumbers, peppers and carrots, but small and of poor quality, and little fruit except figs. Only tomatoes and onions are good and plentiful.
December 2003: If this market was transferred to Corfu's New Fortress moat, no-one would notice the difference. Except that, barring the bananas, everything is locally grown and much healthier than the imported, chemical-bombarded produce that fills our market. Most women stallholders were busy with a crochet needle in between serving the shoppers, making socks and mittens as an extra bit of private enterprise. We pleased one by putting in an offer for her antique weighing scales, which we got for 30 euros - a week's normal salary for workers.
Stocking up with delicious sweet oranges for the trip, we headed out of Saranda for the 'Albanian Riviera', that mainly Greek-speaking section of coast between Saranda and Llogara. I had travelled this way in 1991, in a 25 year old 2CV. 'The road is terrible, and if anything happens, the wolves will come down out of the hills and eat you,' warned a Corfiot we had met in Saranda. Adventure beckoned, and we were disappointed that nothing worse than brake failure due to overheating occurred. I had encountered worse roads in England's Lake District. They were narrow, but in good condition and free of any traffic except for animals and people walking out of necessity.
But this time, once out of Saranda, the road deteriorated into a succession of potholes and bumps. We were thrown around, and Demir, occupying the rear of the robust eight-seater Mitsubishi 4x4, must have been desperately uncomfortable. There was no respite in the two-hour trip, and it is obvious that the road, now carrying a reasonable level of traffic, including heavy trucks, has not been maintained since my last trip in 1992.
Our destination was Old Tzeparo, a mountain village just south of Heimara, 'capital' of the Greek minority. Before turning off the coast road and heading for the hills, we stopped at a store to get picnic supplies.
July 1991: The foodstores stock little. Behind chipped counters, the shelves display nothing more than a few glass jars of apricot preserve, pickles, tomato paste and tinned sardines. Other staples are rationed. A household (never mind the size of the family) is permitted half a kilo of feta cheese, 250 grams of butter and a kilo of meat a week. Spaghetti and rice are limited to two kilos a month, and sugar and flour to four. Milk is virtually unobtainable, and eggs are exchanged in furtive deals on street corners.
December 2003: The store in New Tzeparo is a real 'pantopoleion' of the kind that is now disappearing in Corfu's villages now everyone has access to supermarkets. From floor to ceiling every surface is packed, and objects hang from beams and brackets. Food produce from the whole of the EU and beyond is on display (we found some 'pork meat' from the Czech Republic which turned out to be some grey mince of doubtful provenance), fresh white bread (even though it was Sunday), salami, ham and cheese to cut to order, tools, notebooks, batteries, brooms, buttons, and everything you need for day-to-day living.
Old Tzeparo is about three kilometres up a very steep cobbled road that even the Mitsubishi made heavy weather of. Parking just below the village and walking the last few metres, our first sight was a double-take - a British registered Suzuki Vitara was parked in the square, and a bunch of villagers were chatting with a trendily-dressed young man with flowing locks. Someone got here before us!
Surreality kicked in. He was speaking Albanian, but turned to greet us with a strong London accent. He had been one of the first to emigrate when the borders fell, and now had returned. We would have loved to hear his story, but he had to go off to see his grandmother. Another villager took us to see the local teacher, now retired, who could tell us about the village and its history.
I am sure that even Corfiot hospitality would be stretched by the appearance on a Sunday midday of six strangers on your doorstep, four of them foreigners. But this lovely couple, combined age 165 years, greeted us with extreme courtesy, coffee and raki in their cozy, traditional living room. It took time to get information through Demir's interpretation from Albanian to English, due to the teacher's deafness. We should have picked up on some signs... at one point Harry and I exchanged a few words of Greek, and suddenly the old lady's face lit up. An icon on the wall, and a church campanile in the square, should have told us that this was a Greek village, and this couple native Greek speakers. Any remaining ice was broken, and we were suddenly having our planned picnic at their table, on proper plates instead of the plastic ones we had bought in the store.
But not only is Tzeparo Greek, it has connections closer to home. We found out from the schoolmaster that the village was settled in the 18th century by six families who'd emigrated from Karoussades in North Corfu, just down the road from Harry's own home village. On a clear day, and if you know where to look, you can just make out the site of the village, across the Strait opposite Karoussades.
But you can't see the village itself. Not because, as Old Perithia, it was built in a secret valley to hide it from pirates, but because its houses, constructed of the rock they rest on, blend so well with the mountainside. The village rests on a shelf, with the mountain rising steep on one side and falling into a deep valley on the other. The sea is far below, and you can see the coast of north-west Corfu and the Diapontian islands, where shortly the sun would begin its slide into nightfall. The houses huddle together, square facades showing many empty windows, for most people were moved to coastline cooperative farms and factories during the communist era, or emigrated when they got the chance.
The old schoolmaster and his wife are among the few that remain, surviving through hardship and want with grace and dignity, and uncomplaining that freedom has only come now, as their lives fade into twilight.
Twilight fell as we left, fortified by more raki in the village kafenion (indistinguishable from those in Corfu's unspoiled villages). Welcome darkness... the return journey took us on the outside of the horrible one-and-a-half-car-width road, and at least we couldn't see the drop, in places sheer to the sea. At one bend, a car had gone off the road, but had rolled down into a tree.
Just as the surface improved in Saranda, the jeep skidded violently and veered off the road where, fortunately, there was a wide layby. We thought oil was at fault, but the vehicle continued to lurch and, on stopping back at the hotel, we discovered that one of the rear tyres, battered by its treatment on the ravaged road, had blown out. Half an hour before, a skid of this degree would have carried us off the road too - and there may have been no tree.
When we were planning our trip, family and friends warned us ominously of the threats we would face in travelling to what they believe is still a lawless, bandit-ridden country. But the skid was the nearest we came to danger. Certainly, the south of Albania, with its Greek influence, is as safe as any place can be in today's world, though hiring a guide and driver is advisable, and cheap.
'1997 was hell,' said Aaron Tare, Director of the Butrint National Park to the south of Saranda. 'There was no police, no army, no government... just total anarchy. But surprisingly few people got killed, because the basic social unit, the family, had not broken down. This fact deterred people from killing each other, because the families would say: if you harm any member of my family, I'll do the same to one of your own.'
Now the country is through the worst, and is heading down a fast highway to prosperity.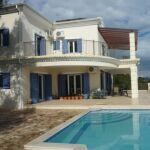 Corfu Premier Property
A selection of the most prestigious, exclusive, stunning & interesting
Corfu Property For Sale